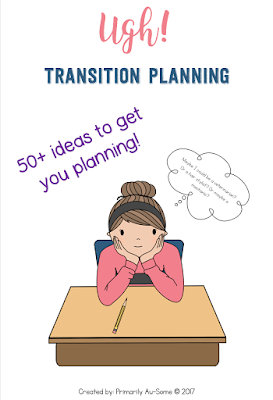 Meaningful transition activities are sometimes difficult to come up with, or at times even implement. Working with teachers in many capacities – it seems most of them share a common frustration: coming up with transition activities that are relevant to their students, engaging, and authentic.
With that, I felt that a good, in-depth list of transition activities that could be utilized would help out.
So, without further ado, here is the list.
Activity

    Completed

Research career options

Learn about the student's disability

Interview a person who has a career of
interest to the student

Research driver's education training

Complete an interest inventory to learn
student's interests

Explore post secondary options and make a list of the
entrance criteria

Learn how to make an "informed" decision

Learn about how to search for housing and
accessing apartments for Rent

Learn about the bureau of vocational
rehabilitation in your area to help with work experiences and job training

Learn
about responsible consumer spending

Develop emergency procedures to use when student
moves out/lives on their own.

Manage daily schedule/ work on setting up and attending
appointments

Complete a resume

Fill out a job application

Cook meals independently

Learn how to do laundry

Discuss appropriate clothing to
wear for certain occasions (ex. What to wear for interview? )

Locate pertinent stores and why they are valuable to the
student.

Complete non-preferred activities

Complete tasks to help out around the school – gather recyclables, deliver mail to teachers, etc.

Learn about ADA and the rights student has because of the laws

Learn about credit cards
| | |
| --- | --- |
| Apply for jobs | |
| Investigate assistive technology and how the student can use it | |
| learn effective money management skills | |
| Learn proper heath and hygiene skills | |
| Investigate technical career options. | |
| Discuss future goals and family planning | |
| If student would like to have a family- discuss needs and functions of parents | |
| Practice proper social skills in a variety of setting | |
| Work on unwritten rules/hidden curriculum of life with students | |
| Investigate types of guardianship and whether or not any is needed | |
| Learn about health insurance | |
| Make a monthly budget | |
| Make a list of housekeeping a student would need to complete to keep a clean apartment. | |
| Practice interviewing skills | |
| Learn about gross pay and take home pay | |
| Learn about taxes | |
| Register to vote | |
| Take responsibility to make a social calendar and stick to it | |
| Learn about a healthy diet and complete a simulated grocery purchase | |
| Complete meal planning for a week | |
| Complete phone skills training | |
| Learn how to search for available/open jobs | |
| Complete a service learning project | |
| Complete a job shadowing of a job/career of interest | |
Field Trip

   Completed

Learn how to use transit services

Identify places in the community to buy certain items and visit them to complete a shopping trip

Visit a community mental health agency and learn about when you can reach out for help if it's ever needed.

Identify and visit social and recreational events within
the community

Tour apartments in community

Investigate opportunities for volunteering in the community

Visit the library independently or with class

Visit the police station independently or with class

Visit the hospital independently or with class

Visit the fire station independently or with class

Visit the dentist independently or with class

Visit the eye doctor independently or with class

Visit and tour places of employment that students may be interested in

Visit a bank and learn the process of opening up a checking/savings account

Visit and have a meal at a restaurant-  Practice paying and tipping

Visit a laundromat / learn how to do laundry

Participate in a transition fair

Visit a nearby airport and discuss how to use the airport if needed

Visit a farm to find how food gets from farms to stores

Visit a hardware store to look for items for home/apartment improvements

Visit a clothing store and locate clothing of student's sizes

Visit a furniture store to determine what is needed to furnish an apartment.

Visit the social security office and learn what services/help students may be able to receive.
For a printable list, click on the picture to go to my TpT store and download the freebie!
Have anymore ideas? leave a comment below! I'd love to update the list overtime!