Welcome to my lovely little blog. I've
linked up with
Blog Hoppin
to show you my classroom.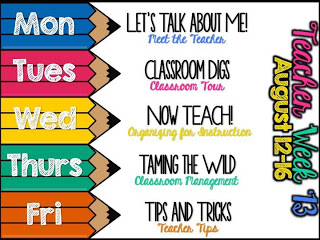 Like the lovely Amy said, who knows better a
work in progress than a teacher. Well, my classroom has been in progress for
quite a while. It still has yet to be finished but a lot of what remains is
hanging signage and finishing organizing.
If you have been following me, you know what
my classroom used to look like before I got working on it. I have been slowly
getting everything unpacked and moved, and organize.
I inherited quite a bit from the previous
teacher…
It's like one of those "be careful what you
wish for,,,," things. Last year I had nothing. All I had was chairs, desks, and
a few computers. This year, I'm giving stuff away. There's so much it makes my
head spin.
Any who this is a panorama picture of what
it looks like now. As you can see still lots too do.

Here is the
super cute classroom jobs
sign I
made. I have the pack in my TPT store. There are 32 jobs in the pack and I only
have 9 SPED students this year, so I didn't need all of them. I picked out the
ones that were most important to our classroom and used ribbon to tie them up.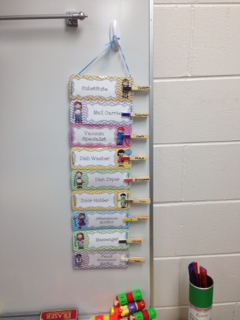 I'm excited to use them this year.
I'd love for you to follow me. When my room
is done I will post pictures of the actual finished product.
Thanks for stopping by!
Happy Blog Hoppin' !