Wow! The week did fly. That first week back
after a long break is always so hard. I had big plans this week for working on
a few more TPT products, but boy, that didn't seem to happen. This week doesn't
look much more promising either. I have 2 trainings in one week, I may be
getting another student, and I have an IEP & an ETR to write! For those of you who may have stumbled onto my
blog and have no clue what those things are let me clue you in. IEP stands for individualized education
plan and ETR stands for evaluation team report. Phew. And to explain what they
actually are is another post. If you can't get through your night without
knowing. Well, I suggest you should Google it!
I digress. So here's the stuff you
probably actually want to know.
If you know me, well I
am a fan of free things, The Dollar Tree, and the dollar section at Target.
There are just so many neat / cheap things that I can get for my room to help
my kiddoes learn. So anytime I can get something cheap or free I am there.
Especially since the Education service center where I work is under some tight
budget constraints as of late.
I picked up paint chips
at Home Depot. I hate taking things for free. I know they are free, I just feel
weird about taking them, knowing that I am not actually going to buy any paint…. I tell myself that when I have a home of my
own, I will actually go back and buy paint from them though. That makes me feel
a teensy bit better.
I have a few students
struggling with counting by 5's. Counting to 100 by 1's seemed to go relatively
smooth for them, but for some reason, the 5's were a bit trickier.
I caught some inspiration on pinterest where I saw a teacher do this, but with letters. SO I grabbed the paint
chips wrote with my lovely sharpies numbers by 5's. Then we practiced. Each
paint chip he had to say the number before he jumped on it. My goal is to
slowly remove the numbers so he has to think about it before he jumps, knowing
that a number is missing. So far we had 5 and 10 before. After using them just
2 times, he can already go to 35! I'm excited. We are going to continue to use
them and see just how well he can do. I'll let you know how it goes!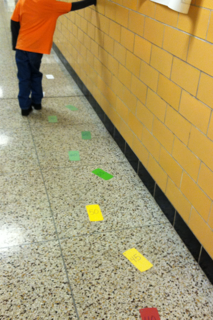 Happy Blogging!
In Learning & Laughter,