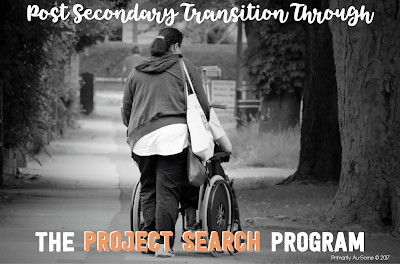 Hey ALL! Happy (hopefully) summer break to you! Since I'm in administration, I'm working all summer, so I am jealous of all of your who are lounging around by a pool! Any who, I wanted to talk to you guys about Post-Secondary Transition. More specifically a Program that I was able to help start in my county this past year.
If you haven't heard of Project Search yet, I BEG of you! STOP! STOP what you are doing right now and head on over to their website to check out what the program is.
Project Search is a multi-organizational team approach to Post Secondary Transition for Students with Disabilities. It is truly a unique opportunity that really provides an amazing experience for students with disabilities to prepare them for a long-term job!
In the first year of our local Project Search, we had eight interns. Out of that eight, six of them have received long term jobs making anywhere from minimum wage to $11.00 an hour, which here in Ohio, is a substantial wage for ANY 18-year-old just starting a job. The other two are still searching for employment, but they only finished the program 4 weeks ago!
Whose Apart of the Team?
Like I said, It's multi-organizational. We had 5 partners in order to make our year a success.
The business site, vocational rehab, department of disabilities, educational service center, and a job trainer through vocational rehab. Our first year of the program was 2016-2017 school year, but we started planning for our first year in 2015. First, we had to secure a business partner. As a representative of the ESC, we teamed up with our Local Board of Developmental Disabilities. We then needed to find a business to host the Project. We found ours in a local hospital. Once the business was in place, we need to secure funding for the one-time startup fee for support through the ladies that came up with Project Search. They seriously meet with you, train all the staff and business staff, and help trouble shoot through your first year! The startup fee is $10,000. Now many of you may stop reading at that, but I swear, the more people that know about the program, and what you are trying to do… well money just started to come out of every place! We had a local foundation donate money to cover the startup fees, after we applied for a grant through them. The rest of the costs to cover the program come through the organizations that are teamed up. And as transition services go, the program ends up being quite cost effective.
Where'd it Start?
The idea came about in 1996, between a Emergency Department, Erin Riehle, had an idea about hiring people with disabilities to help out at the hospital, since a large part of their patients had disabilities. Erin wondered if it would be possible to train people with developmental disabilities to fill some of the high-turnover, entry level positions in her department, which involved complex and systematic tasks such as stocking supply cabinets. She partnered with Susie Rutkowski, who at the time was the special education director at a nearby school. Project Search started as a one site program and has grown over the last twenty plus years to over 300 sites.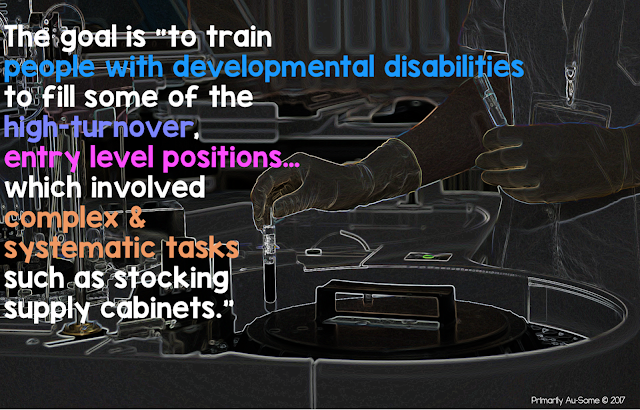 What's So SPECIAL about the Project Search Model?
While the school, County Board of DD, and Vocational rehab are all big parts of the model, it is actually led by the business. This makes buy in from the employees of the business essential. We were lucky that when the project was announced at our partner business- A local hospital, had EVERY SINGLE department ask to have an intern in their area. We were blown away, and still are to be honest!
The focus of Project Search is made clear to interns at the very beginning of the year. The collaborative team wants them to get employment at least part time in an area of their interests.
To gain employability skills, the interns are given a 3 week in the classroom learning experience. During this time, the instructor teaches the interns the rules of the business including orientations and general training. After the initial three week training the job trainers work with the instructor to start and slowly train the interns in each part of the internship.
The interns get to experience three – ten week internships over the course of the school year. This challenges them by letting them learn many parts of different jobs. The skills they learn are transferrable to other employment areas with in the community. This means that students learn relevant, marketable skills while immersed in the business and those businesses are active partners in the internship process.
The standards that Project Search sets for students who are referred to as interns, is competitive employment in an integrated setting. Gone are the days of sheltered workshops. We want our interns to get a job in a real work place, that challenges them, and empowers them. We also encourage at least a part time work, that is year-round.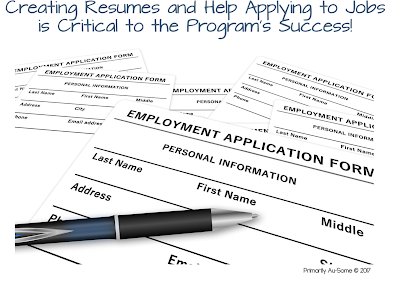 Some Other Basics!
We made the interns go through an application process- just like college or any other internship process. We also interviewed them and asked them t0 complete a skills assessment (which consisted of us watching them complete simple tasks like putting things in alphabetical order, transferring a patient down the hall in a wheel chair, or putting surgical tools on a tray in correct order). We didn't expect perfection, but we were looking to see what skills they had or needed. Students had to have not graduated high school, but have met their graduation requirements. They also still had to be under the age of 22. Interns spend 6 hours a day at the business. With 4.5 hours working in the internships. Towards the end of the school year, the vocational rehab partner comes in to help the interns job search.
Overall, the Project provides a clear path to employment for many youth with disabilities and also encourages collaboration for the partners to the project. It's truly a team effort.
It's a huge project, and I'm sure I left some of your questions unanswered. If that is the case, reach out, email me, or comment with your questions below! I will do my best to answer any questions you may have!