I love repurposing things. I've used crystal light containers for sorting. Paint sticks for movable schedules. You name it I try to repurpose it or figure out a way to use it in the classroom. Although I've never repurposed dressers or chairs…. because that would require WAY more handiness than I am capable of!
BUT in the Sped classroom, I'm a repurposing fool!
I've compiled a few ideas for you below!
1. Scrabble Letters Everywhere.
Who doesn't love a good garage sale? Ever seen old games there hanging out? Typically people sell their scrabble games and some of the letters may be missing. For the game, it'd be hard to play without, but for practicing spelling? It's genius?! Am I RIGHT?
haha!
Here's a picture of my scrabble letters in action!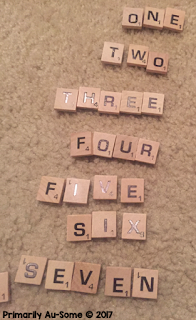 Have students spell words out with a model or use something like
THIS
, to have them spell words by sounding them out! It's hands-on fun for everyone. 😉
2.  Inexpensive Name Practice- I have a lot of kiddos who still have trouble with writing their names correctly. They need lots of visual help. For them, I have taken a font turned the color to white and added an effect of shadowing behind it. This illuminates a pathway for the students to follow. They get guiding lines for them to trace. You can print the pages out and have students work on their names to sign-in in the morning, or you can laminate them for durability.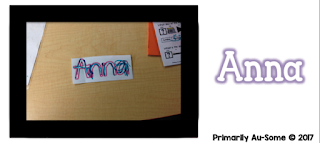 Click on the picture for a FREE Download Template!
3. Paint Chip Flash Cards- As an educator I love to save money where I can. Who needs to pay for flash cards, when the local home depot, lowes, or local paint stores, have paint swatch cards for free.
Why yes, Yes, I DO need 4 swatches of this ONE color. Because You know Paint. 😉
I've used them as flash cards, book marks, and pieces for games! In the picture below, we did a little Hallway Hopscotch. I'd ask what 2+2 was and he had to find the answer and then HOP on it. It was fun and gave him some MUCH needed movement!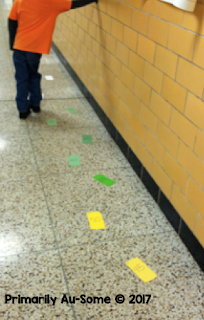 4. Math Number Lines Anyone?
These are VERY easy to make, fun, and super cheap as well! Grab some zipper plastic bags, a paper, a marker, and ruler to make these math number line tools.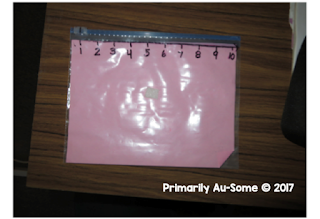 5. Pencil Pouch Pecs Card Holders
Need those PECS to go? Seriously, easy and quick access.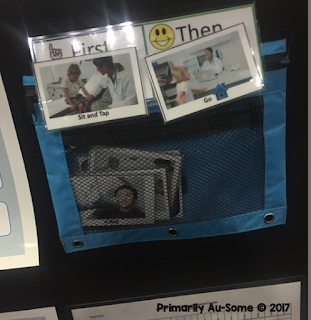 6. Individual Flash Card Holder
As a sped teacher, I used a ton of flash cards. We would use them to practice math facts, spelling, sight words, science vocabulary and more. I hardly ever had my students on the same levels though, so keeping track of everyone's different cards was hard. This, however; was EASY.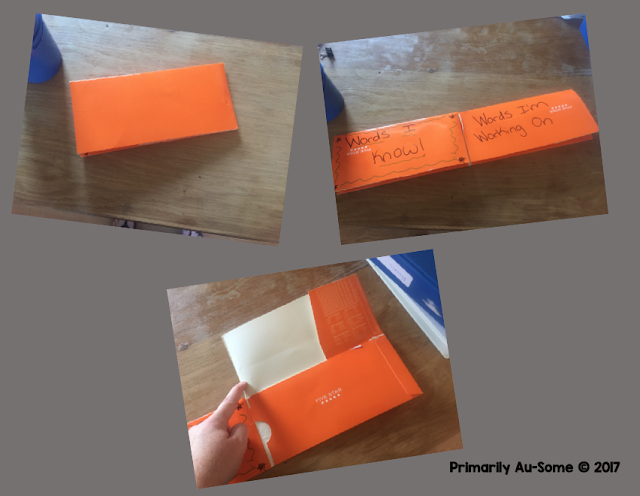 We took a folder cut it down the middle and folded it. One side is words/facts/vocabulary words that have been mastered, and the other side, is what we are still working on. Next school year we are adding a self monitoring graph for the student's to keep track of their own learning. Kids love these!
I've got a few more hacks up my sleeve, but I don't have pictures of them, so I will work on gathering those for you and post a few more in the coming months.
In the meantime, what are your favorite Sped Hacks?