This year is kicking my butt. There is no
other way to put it. My class is jam-packed and on top of that we have a new
teacher evaluation system in Ohio that is putting some wonderful added pressure
on teachers all over the state.
I don't have a planning period. I have
more kiddos than I technically am supposed to have, and I dislike many of the
IEP's that my kiddos came with. I want to challenge them more than what others
have in the past. They are capable of much more! Since school has started I
have written 4 IEP's and have 1 to do this week, 1 next week, and 2 more I want
to re-write when I have time! Haha, I just giggled at that! When I have time!
Teachers don't have time. We breath, sleep, & eat teaching.
My kiddos in my class are all over the
place. I have been creating materials to use in my classroom like crazy, but
haven't had the time or brain energy to write one or any really blog posts.
I have been decently active on
my Facebook page
though! 😉 That doesn't take too much of my brainpower. I am participating
in the Facebook Frenzy for the Kinder group so if you hop on over and follow
the tabs you can download some really neat products all for FREE. What is
greater than free? I'm not sure there is anything much better.
Click on the picture to start the frenzy!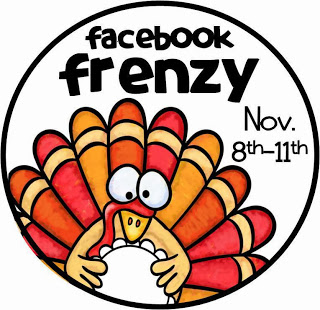 I have a few pictures to share with you lovely people! For the month of October we learned about pumpkins. We had a pumpkin investigation. It cracks me up watching the kiddos put their hands in the pumpkins to pull out the goo! The looks on their faces are PRICELESS! Love it! We estimated how many seeds we thought were inside, learned about all of the different parts of a pumpkin, learned about the life cycle, made pumpkin pancakes, and even got to visit a pumpkin farm! So far I think this unit has been our favorite! But there is so much more to come! Enjoy the pictures below and don't forget to check out the Facebook Frenzy!