I love snow! I really do! But….
Well you knew it was coming….I am not a fan of -20+
degree weather, which is EXACTLY what we have been having here in
sunny, frigid
Ohio. I read yesterday that the northern-most town in Alaska
is warmer than
here. Yes, you read that right! ALASKA is WARMER! We have not had school
for the
last two days. I for one, am not complaining. It's to cold for
even polar bears…. Well it
might not be, I just made that up, but I feel like it should
be. EEK! So needless to say,
I am curled up on my couch with my blanket
with a very cute dog, and
a small space
heater. I had a small cold and was able
to get my
progress reports
done opening the
day up! wanted to share with you how I do Data
Collection for IEP goals in
my classroom. I have an example for
you of one below. I think it is so hard to keep
data on them when you are a new teacher.
Grading Books Simply do NOT work. I had
no idea where to start. Here is a simple snapshot
of what it looks like.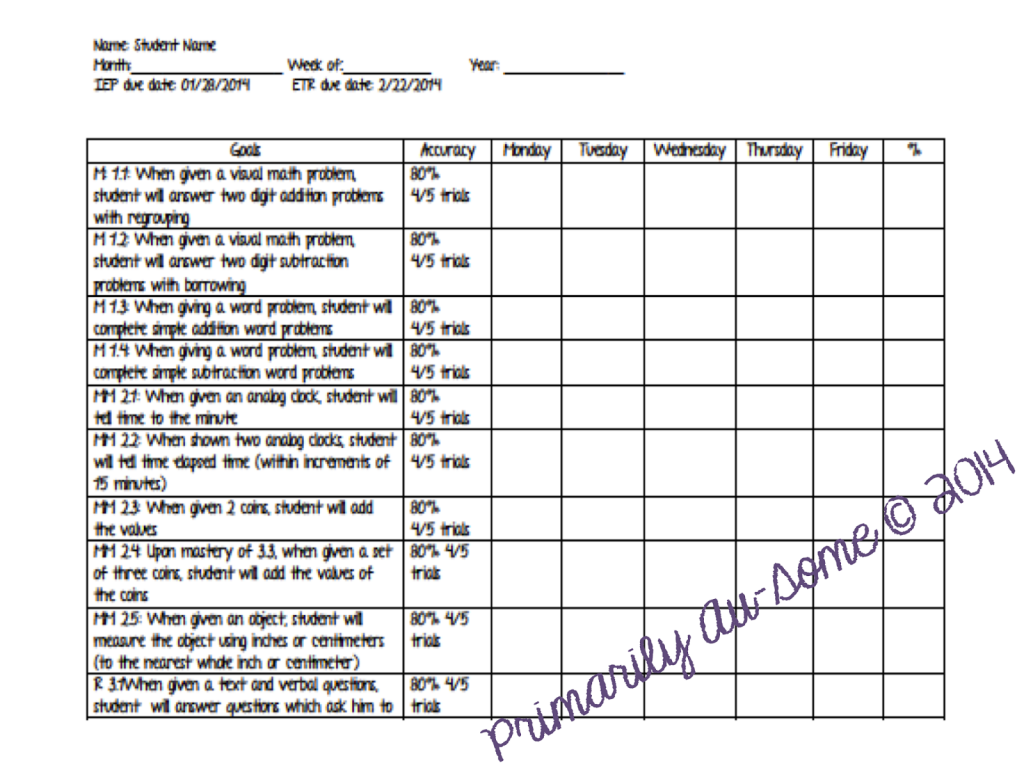 I give each goal a spot on the sheet.
Each student has their own sheet.
Since I have anywhere from 5-9 students, I
color coordinate them so I
can easily find their sheets if needed.
I preface each goal with what
measureable annual goal it falls under.
I use abbreviations to help out,
because you know, special ed., doesn't
use enough abbreviations. Here are the ones I use:
English Language Arts: ELA
Math: M
Science: Sci
Social Studies: Soc
Social Skills: SS
Transition: T
Occupational Therapy: OT
Physical Therapy: PT
Speech Language Therapy: SLP
Adapted Physical Education: APE
Vision Impairment: VI Orientation & Mobility: OM
Additionally, If I have two goals under
Math, I'll put M, and M2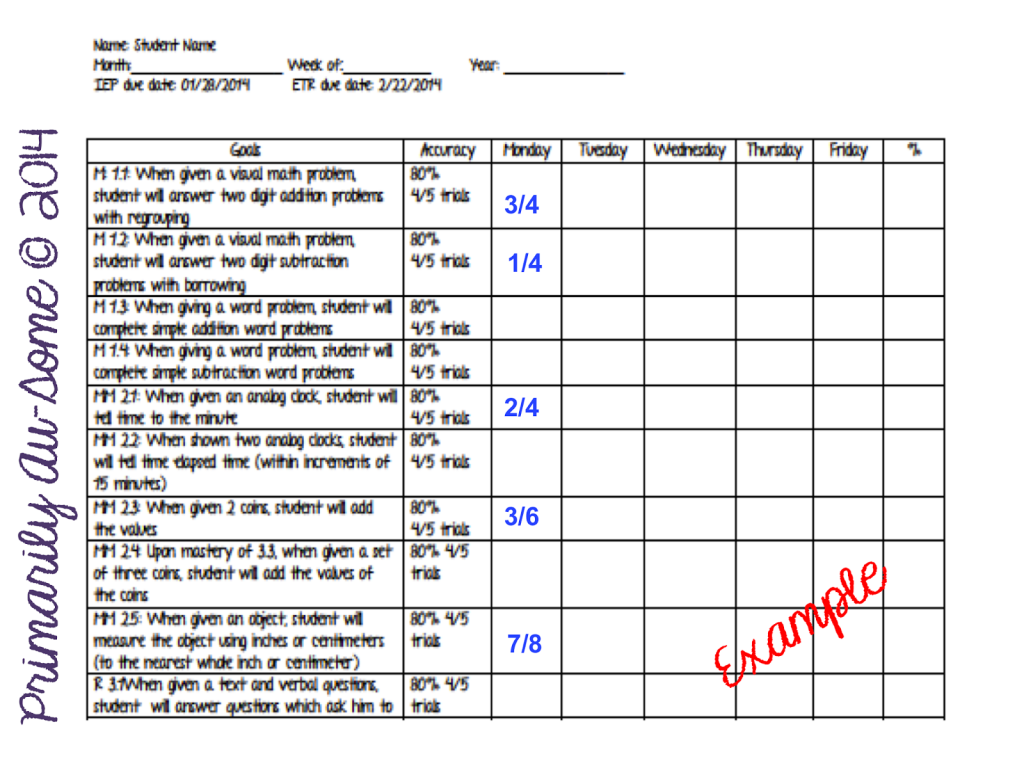 This is an example of it filled in a bit so you can see just exactly how
we use it. What you see there isn't the exact
wording I use for the
IEP. I am trying to communicate what exactly the goals are in their
simplest terms to myself, and my
paraprofessionals. This allows us to
quickly scan their sheet and write down
exactly what score they
received on that day. It allows all of my scores to be
in one place for
the week and on one sheet. At the end of the week I tally up
their
percentages and input it into my excel program which automatically
adds
up students grades for the quarter. When it comes time to do my
progress reports, I don't waste hours adding up scores, double
checking myself to make
sure everything is write. I simply print off
my excel spreadsheet and input
their end of quarter scores into my
schools progress report forms, add comments
and I am DONE. I love
making things simple and easy when it comes to data
collections. Plus
if your admins are anything like mine, they love data. The more you
have the better. =)
I'd love to hear how you collect data
in your room.
Also, I am in the process on refreshing
some of my wonderful
freebies on my TPT site. A lot of them are from when I
first started
and as we get better with time and practice, so have my material
creating skills. The first one I updated was my seahorse 1:1
corresponding
page. Check out the newly revised page below, I'd love
to know what you
think. What?! You were expecting a snow themed