So
to say that I have been slacking with my blog is an understatement. I've meant to give you all an update but the end of the school year had my brain scrambled.
But
School is now over. I said goodbye to my class last Thursday. It was
heartbreaking. They are all sweethearts and I love them dearly. Most of the time I get to see my students the following year,
whether they are in my class still or not. Next year I won't though because of
budget constraints I won't be back at that school. The ESC I work for is sending me to
another elementary. I will no longer have an Autism only class. I will have
a moderate to intensive disabilities class. It makes me sad to leave these kiddos, but I am looking forward to changing buildings and meeting new teachers and students.
So
lots of changes are coming my way. I will still have K-4th grade, I
think, unless changes happen over the summer. Which you know how that goes. 😉
Any
Who I have lots of things to do over the summer. I was asked with a colleague
of mine to gather up our ideas and be presenters at a training to kick off the
school year. I thought it was pretty exciting & am excited to present in
August. Our Presentation is about Structured Teaching. The way we teach in our
classrooms is going to be the way all the elementary ESC classes will look
like. It's pretty exciting.
I
took a few pictures of things to show you that happened since the last time I blogged,
which was a lot longer than I would like to admit. =)
I know you are all on pins and needles trying to figure out how our butterflies turned out. Well Have no fear. Here are a few pictures for you!
We released them a few days after they finished their transformations. We completed an observation journal everyday that we had the butterflies using my butterfly observation journal on my TPT store. My kiddos loved being able to go back through their books and see the transformation. You can find my TPT Butterfly book here.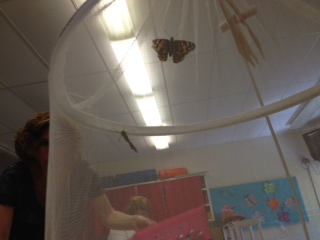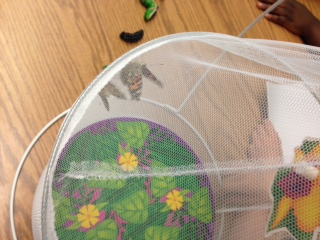 Beautiful Butterflies. After they made their transformation we found out one of our students was afraid of butterflies. He kept trying to find out where they were in the room and then would try his hardest to be the farthest away from them. He kept saying "butterflies bye bye." It was too cute. He was needless to say happy we let them go.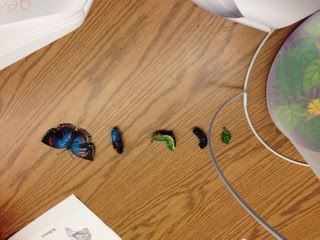 WE put them in the order of their life cycles using the plastic models I got from Donors Choose. I still can't believe my Project was funded! It's crazy.