If you're like me, you love the iPad. It is a great tool to help our students learn, it's also very engaging for them.
There are SO MANY apps out there, where do you start?
I created a downloadable guide you can use as a starting list. The apps listed in there include apps for communication, social skills, autism, math, reading, and special needs. Its jam packed with over 100 apps! Yes, you read that right! ONE HUNDRED APPS.
So, get to it, and go download it! It's free right here, if you click on the picture below.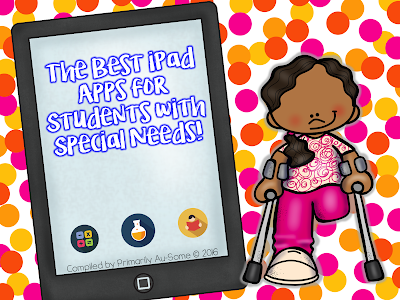 I also wanted to take a minute to tell you about my favorite APP website.
It is called AppyMall. It is THEE BEST APP WEBSITE (period.) Check it out. You won't be sorry.
Here's an App I found through that website. Autism Language Learner is an app that is regularly $39.99 but right now it is FREE. But it is only free for a limited amount of time. So hop to it, and get it downloaded. It's already back to paid! That was quick. You can check out this great counting coins app that is free now too!
If you see any apps that you use regularly, please email me, or leave a comment below, so I can add it to this growing resource guide!
Happy Teaching!