I hate being absent. I'm one of those teachers who will show up with the flu and try to
teach, only to be sent home as soon as the principal sees me. It's not that I
don't want to take care of myself, because, I do. I just have a problem with
letting go and letting someone else step in for me when I can't be there for my
students. I worry that the teacher won't know that Student x will have a melt down if you touch him
on the back, and student H needs a side hug and some dry cereal in the morning
or he will have a bad day, because he usually sends himself to school because
Mom and Dad are already at work.
My heart hurts when I leave them. I
even have Parapros who are
present who can tell my Sub what they need to know, and I STILL struggle with
letting go!
During my second year, I finally figure
out the right combination to help my sub and help me! Most teachers leave sub
lesson plans for the day. I have a sub binder! No, seriously, it's a binder. I
chalk it up to all the special information that my sub needs to know about my
kiddos, and also, I'm a BIT long winded. Haha.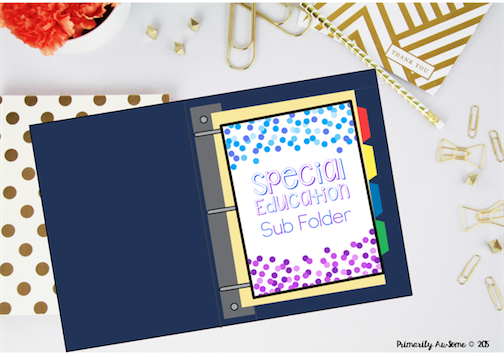 For starters, I write a Welcome Letter
and also THANK them. I subbed for a year. That's a SUPER hard gig. I think we
sometimes forget how hard sub teachers have it. We automatically assume that if
we leave them loosely formed plans they will teach the lesson the exact way we
want them to. Some times things don't go as planned. Your students act out, the
fire alarm goes off, someone decides to try to eat paint… (not saying THAT
happened…..) but I think we need to remind ourselves that subs aren't perfect.
The better we prepare, the better off they will be!
I remind subs about FERPA and how any
information they learn about the students in my class needs to stay there. I
leave the sub lesson plans for the week, and then a broken down lesson plan for
the day.
I also leave an "IEP at a Glance" sheets for
the sub. Each page details major highlights and services the student receives. It looks like this…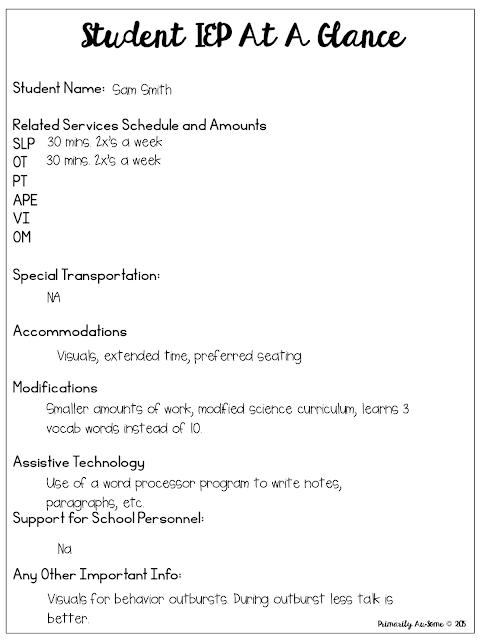 I also leave a Child's snapshot. This
gives a quick run down on how they can reach family, any allergies,
transportations, etc. about the student. I always include a picture of the kid too. I think it makes things easier!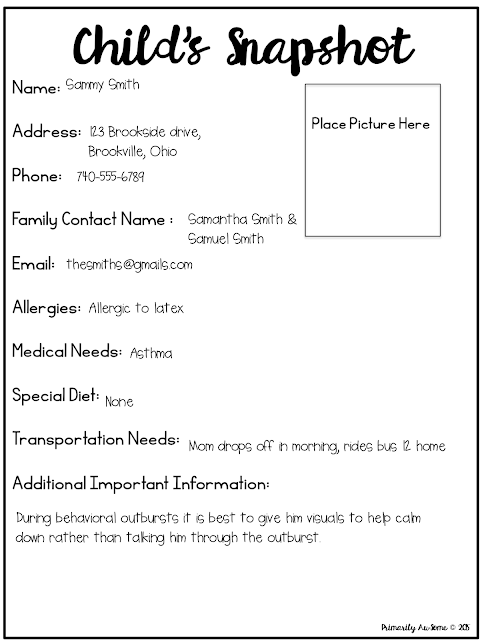 When I subbed, I was amazed at the times the teachers would leave me directions to use a certain website to discuss something, and not leave me any username to access the website! So, I leave a list of websites and
passwords that the sub will need to access programs that the students need. I
never include my email for obvious reasons. It is hard to tell a sub to use Vizzle with a student, and then not give them
access to it. I change my username and passwords every couple of months to make sure that no one accesses it after they sub.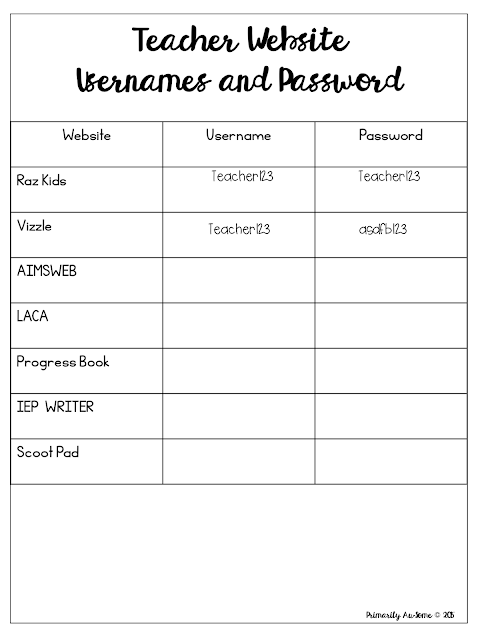 I also leave the inclusion schedule and
stress the importance of getting the students to their assigned inclusion times
as it is part of their IEP. A page documenting different strategies to try with
different students and their behavioral outbursts is also included.
Sometimes a sub needs to know the go to person if they have any questions, so for this reason, I leave a HELP page. This includes
information about which teachers they can go to form help. My principals direct
extension, and even my phone number in case of emergencies.
To round out the binder I include the following just in case they are important pieces that my sub will need:
Seizure action plan
asthma action
plan
diabetes care plan
medication administration log and procedures
G-tube re-insertion information
lock
down procedures
tornado drills
fire drills
seating chart
behavior incident
reports
unusual incident reports
injury reports
medication error reports
Additionally, If I know I will be out for an extended time (fingers crossed! I haven't had to do this yet) I leave a new student packet, of all the info that a new student would need.
Lastly, I ask the sub to tell me about how their day went, and if they could think of anything else that I could have let them know about to make for a smoother day.
It's a lot! I know, but it lessens my worry, and makes for a smooth day for my students, parapro's, and the sub. Which means, I walk back into a classroom, not having to clean up messes and being able to pick up right where I left off! If you're interested in some of these forms you can get them
here.
Hopefully these ideas will help you tackle preparing for a sub this school year!
Sincerely,