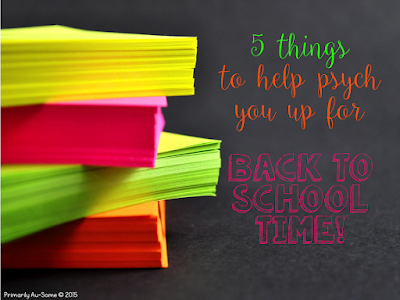 Wheewho! It's
time! For Back to School! Let's be honest, raise your hand, if you are NOT
ready. As I type this, I could be on a beach getting burnt a few yards away.
But I don't like to get burnt, and safe sun knowledge tells me that I should
not go between peak hours… and I am a rule follower, so I will sit here and wait it out. And tell
you how excited I am to go back to school!
Fake enthusiasm aside, I am just not
ready to go back. I may need a few more weeks. Luckily, I have about 2, so I
hope that this short break will work back up my enthusiasm. Usually, by the
time the kids start back I am ready to go. This whole being in administration
and starting back at the beginning of August thing, really has me out of sorts
though. I have 5 no fails that I use every year to get myself psyched for back
to school time! And I've decided to let you in on my secrets. 😉
1.Look at Back to School ads – I don't know what it is about back
to school ads, but they are my thing. I love them. I love looking through Wal-mart, Target, Staples, Office Max,
Lakeshore, you name it, I've probably looked at it. Maybe it's my need to compulsively buy all supplies at a low price, or
maybe it's laying out a plan of attack, er, I mean
shopping, by plotting out all of my stops. I don't know, but I love it. A lot. I love organizational supplies, and pens, and fun erasers, and paperclips, and binder clips, Oh mY. It's my happy place. 2.Picking out a first day of school outfit. Admit it, you do it.
And if you don't you should. I've spent way too long at stores trying to find
the just right shirt that says, "hi! I'm your teacher, I want to have lots of
fun learning with you this year!" And while I know that shirts really don't
talk, they sure can give a good first impression.
3.Re-working a previous lesson that went less than stellar- we
all have that one lesson that we were so excited about. We prepped for days,
and when it was finally time to impart our amazing knowledge to our students,
for whatever reason, that lesson crashed and burned! Maybe you were trying to
teach your students about different states of matter by cooking waffles and you
got the baking powder mixed up with baking soda, and they looked well…. Not
like waffles at all, and it just confused your students….. I'm not saying that has
ever happened, or not happened, but it MAY have happened…. Fixing that lesson for
future students can be exciting and enjoyable, knowing you've gotten a
previously horrible lesson that is totally going to rock in the future in your arsenal. 4.A stop at your favorite coffee place in the morning. The smell
of coffee wakes me up. I don't drink it, but like the smell of it. I like Caramel Starbucks' Frappuccino. Or as those who
love me like to affectionately refer to as Adult Milkshakes. They are good.
Maybe not good for you, but a once in a new start-of-the-school-year treat to psych you up, yummy!
5.Send your future students a postcard to say hi, or briefly
introduce yourself. Everyone loves mail, and especially as a kid, I loved it!
Having mail from your teacher is TOTALLY Cool! & writing a sweet note to your future students can be a great way to start thinking about all the littles you will soon meet. Bonus Tip! Check out this SPED E-Book I've put together with my favorite Sped Teacher Bloggers. If you check each one out there are a list of freebies for you to choose from.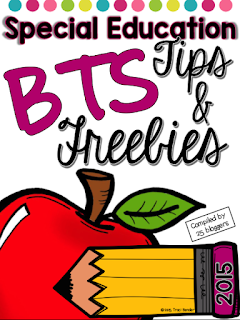 Below, is
a giveaway you can enter in, to kick start your back toschool shopping with my
help!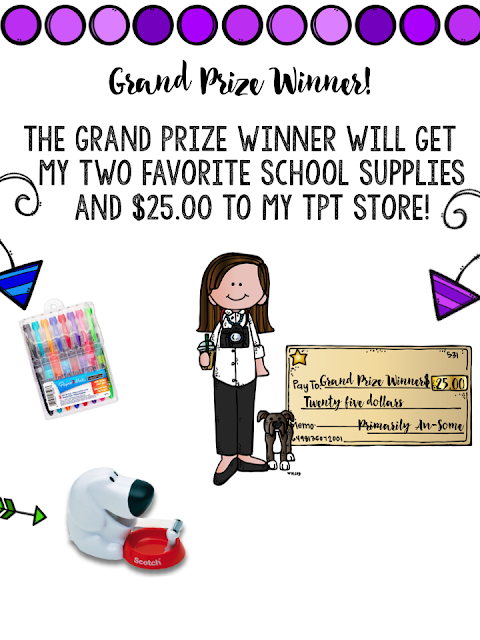 a Rafflecopter giveawayCheck out all my bloggy friends! They are having giveaways too!An InLinkzLink-up