So I was a little confused at how the
linky party works. I wish I was a master whiz at it all but I'm not. So now
that I have it figured out….
So here goes….
=)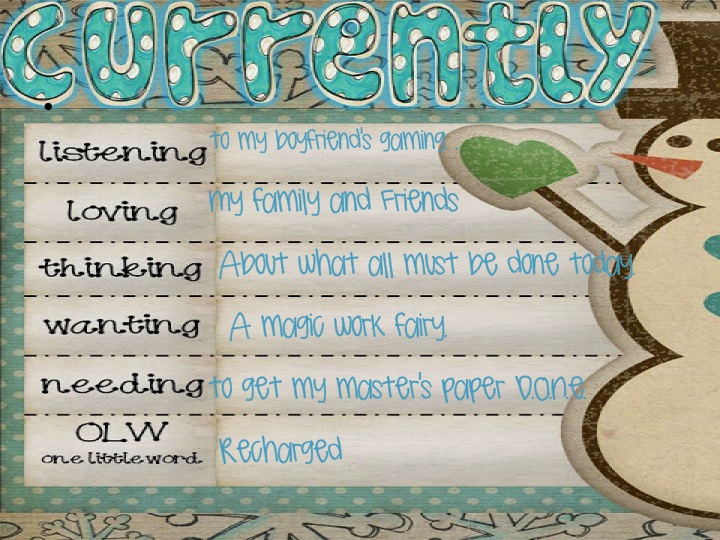 Listening: to my boyfriend game. He has this game that he has been playing for the entire break. He is always worried that I am getting upset with him for gaming so much……… The secret…… I love when he games, it lets me blog, pinterest, and gives me time to make more resources for my classroom. =)
Loving: My family and friends. They are amazing. I had the best Christmas I have had in a long time, thanks to them. I love, love, love them.
Thinking: about all that must be done. or maybe I should say all that SHOULD be done today. Yes, I am one of the few that still does not have my christmas tree down. SO yes, thats a definite must, but the rest of the list is maybe a little less pressing….maybe.
Wanting: A magic work fairy! Wouldn't that be great. Fairy please go do my laundry, wash my dishes, write my lesson plans, run my errands, pay my bills. Oh, how nice that would be……. but since they don't have those just yet, I digress.
Needing: to get my master's paper done. To be honest it's embarrassing how long has gone by since I should have had it done. The past year was turbulent for me to say the least. A health scare, two moderately bad car accidents, (both of which I like to say, were NOT my fault. I'm not a bad driver I swear) As you can see, I have had plenty of reason to put off my paper. SO i did. and I'm still in that procrastination mode. I need to snap out of it.
OLW : Recharge. I love being an Intervention SPecialist. I love my students, the people I work with, almost everything about my job I Love. But sometimes You just need a break and a chance to remind yourself that what you do matters. What you are doing matters, and you are helping to shape little lives.
SO that's me currently. Don't ask what I doing future-ly. I'm not exactly sure. 😉